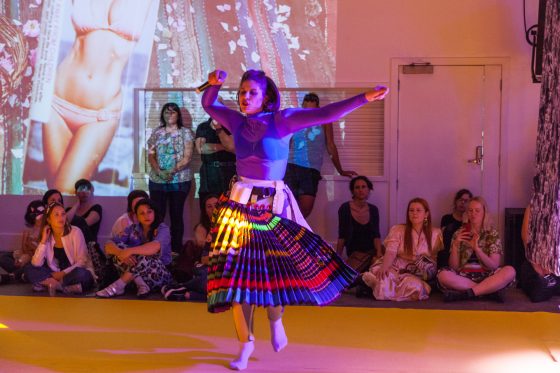 In her series for Roman Road Journal, Philomena Epps explores various facets of contemporary performance and video art by women artists through the lens of current exhibitions. In the final instalment, she explores the figures of the dancer and the diva in relation to the performance works of artist Gery Georgieva.
Talking in response to her monumental painting, Diva (1999), the legendary feminist artist and educator Miriam Schapiro remarked, "The notion of 'Diva' fits right into [my] life's work … Everything I've done is about women. And every woman has the right to interpret her feminism on her own. There shouldn't be one agenda. Each woman, each artist, should work out her own agenda, just as I have."[1] This figure of the diva—as a complicated, often abstracted, composite of female identities or feminism(s)—is also central to the work of Gery Georgieva. Georgieva's lo-fi and multifarious output encompasses performance, video, and installation, and often involves collaborations with music composers and producers. Throughout her practice, she has constructed an intriguing and ambiguous vernacular, fusing the spirit of her Bulgarian heritage and traditional folk culture with the atmosphere of pop music and the theatricality of vaudeville.
Georgieva's recent live performance На Чешмата (At The Source) at Oval Space on 28 May—commissioned by the annual performance art festival Block Universe for their 2018 programme—was an impassioned configuration of these eclectic and authentic references, in which the artist used both her physicality (body, voice) and her psyche (sense of self, cultural identity) as immediate material: internalised and dramatized.
Using costume, props, and set design, Georgieva created an elaborate mise-en-scène within the venue that interweaved multiple references to Bulgarian cultural touchstones. Repeated motifs, patterns, textures, surfaces, and skins melted into each other, creating a feminine and folk environment. Georgieva's costume was designed by the duo Chopova Lowena, known for their exciting clash of traditional Bulgarian folk dress—the intricate embroidery with regional motifs, pleated wool skirts—with contemporary and industrial active wear, such as 1980s rock-climbing or wrestling gear.[2]
Despite the scale of production, the environment retained a thrifty, DIY aesthetic and feeling – one that has been intrinsic to Georgieva's previous work (particularly when performing as her alter ego 'Vera Modena'). Swathes of purple and iridescent diaphanous chiffon hung from the ceiling, with a bright yellow carpet signifying the stage area. One of the three video projections—which spanned the walls of the room—showed fuzzy, amateur footage of Georgieva dancing with her family at Christmas. Georgieva's mother, Miglena, had catered the event, there was a table laid out with baked goods (such as banitsa), which added a more familiar and tender register to the affair.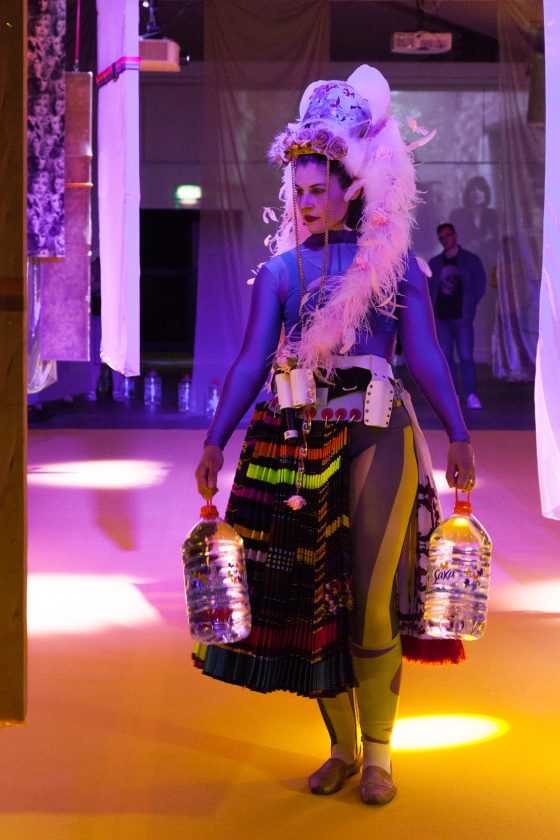 The other two video projections showed a cut and fade montage of traditional textiles and fabrics, rose petals floating in water with tourist postcards and commercial packaging, and cheap 'sexy' cigarette lighters, decorated with scantily clad female bodies. The latter was an overt reference to how images of naked women are often used to advertise quotidian commercial goods, such as washing up liquid. Images of greased up torsos—both male and female this time— some with jauntily placed vegetables to preserve modesty, were printed on aprons, and given to some members of the audience to wear. The image of the rose as a cipher for the female form is a cross-cultural reference often flagged in Georgieva's work, investigating the symbol of the rose in Bulgarian consumer culture, as representing both nationhood and womanhood. Rose oil is one of the largest Bulgarian imports. There is an annual Rose Festival, which celebrates the rose picking season, and hosts a beauty pageant contest and crowning of the Rose Queen.
The title of the commission, 'At the Source', took inspiration from the wellspring or public tap as a traditional site of encounter. In Bulgarian, Чешмата literally translates as 'a tap', but Georgieva chose the phrase 'the source' instead, due to the associations with authenticity and origin. Due to the large number of natural springs throughout Bulgaria, public taps can be found everywhere. Traditionally, the youth were sent to fill up containers of water for the family, and people still go to fill up their bottles in cities and villages today. The image of the watering hole as a place to come together functions as both a motif in Georgieva's songs, and as a wider reference to the notion of performing for an audience: the here and now of a live event. As part of the staging, large five-litre bottles of water delineated a walkway to the stage, and Georgieva entered the space carrying one in each hand, as if on a catwalk, often pausing to drink from them during the show.
Georgieva's practice points to the ways in which the female body is often instrumentalised and commodified, irrespective of specific culture or traditions. The artist sees pop and folk culture as parallel, and often interchangeable, claiming they invoke "the lowest common denominator way of belonging." In music, both genres share multiple common themes: love (both requited and unrequited), marriage, sexuality, female suffering, and the plight of the mother. In conversation after the performance, she explained, "Often there is a motif of the unmarried youth associated with the tap in Bulgarian folk songs – sent off on an errand, meeting someone at the spring, and organising clandestine encounters. In one of the songs, the idea is that the girl has been stood up at the tap, and so she sasses out, and declares that next time she sees him he will get burnt! It also talks about him being an eternal bachelor, and then samples from a traditional Bulgarian song about a wild young boy."
The Block Universe performance set was a mixture of Bulgarian covers, borrowing from poetry and folk songs—with samples, such as 'Prituri se Planinata (The Mountain has Overturned)'— and a soundtrack produced in collaboration with Endgame and Junior XL. Georgieva invited the producers—known for their big beat and reggaeton club music—to listen to Bulgarian choral music, and respond to its slippery, irregular harmonies, lack of meter, and dramatic nature. From here, choral compositions were devised in collaboration with her sister Kalina, and Kalina's daughter, a young singer. Additional vocals were recorded with the singer Mariyana Pavlova, who recently recorded the lowest recorded sung note for a female voice for the Guinness Book of Records. Part of the trio Rodopea, Pavlova comes from a folk dynasty; her mother is also a folk singer who frequently dueted with Valya Balkanska (Balkanska's recording of 'Izlel e Delyo Haidutin' was sent to space on Carl Sagan's Voyager record).
Georgieva worked on the dramaturgy with the dancer and choreographer Andrew Hardwidge, in order to develop a dramatic arc, with different registers of intensity, emotion, and types of performativity. "I wanted the audience to feel at times alienated and at others drawn in," she noted. One of these more accessible moments was the cover of Janis Joplin's 'Mercedes Benz', the familiar tune overriding the language barrier. "There are moments of confident self-presentation, knowing interiority, sexy sadness, and the putting on of a metaphorical mask, with the use of a fixed, quivering smile," continued Georgieva. This smile—simultaneously self-assured yet vulnerable—was influenced by the dancers on horses during 'Bring on the Beautiful Girls' in Ziegfeld Follies (1946). Other diverse influences included pop divas Beyoncé and Rihanna, the dancehall star Spice, Hollywood dancer Cyd Charisse, and the Portuguese 'fadista' Amália Rodrigues.
"I am not a trained dancer, choreographer, or singer," Georgieva clarified. "Maintaining an amateur attitude is important to the work for me." The subversion of pop culture, undertaken within the mode of amateurism and fandom, brings to mind Pipilotti Rist's first video work, I'm Not The Girl Who Misses Much (1986). Rist adapted the opening line from the Beatles song, 'Happiness is a Warm Gun', remarking in conversation with Hans Ulrich Obrist in 2001, "In my village in Switzerland I had a small window on the art world through the mass media; through John Lennon/Yoko Ono I moved from pop music to contemporary art. In return, I will always be grateful to popular culture."[3] Rist performs her "exorcistic dance" with manic, jerky energy, repeatedly singing the line with an air of desperation. The video is manipulated by blurry, distortion effects, and sped-up at certain moments. "When I present things in slow motion, I would say that's 'reality', because our perception of time is subjective," she commented in a 2004 interview. "When you're nervous, a half hour can feel like an eternity, and when you're feeling contemplative, it goes so fast. So time is extremely relative."[4]
In her compendium, The Artist's Body, art historian and scholar Tracey Warr asserted that Rist's aesthetic language was a deliberate appropriation of the pop music video format—the semiotics of MTV—undercut with a feminist agenda; "playing the 'music babe' she moves from objectified love-object—the subject of popular music ballads—to the author of the work itself … a feeling of panic undermines the glamour of the standard pop video."[5] During a sequence in her 2016 visual album Lemonade, Beyoncé referenced (or stole, depending on your view) a scene from Rist's 1997 installation Ever is Over All, in which Rist—wearing a blue dress, in Dorothy red shoes, with an oversized tulip in hand—gaily smashes car windows as she walks down the street. In 'Hold Up', Beyoncé—barefoot, dressed in layers of bright yellow tulle—does the same, using a baseball bat to shatter the front window of the cars parked alongside her. Georgieva's video Rodopska Beyonce (Autoethnography II) went viral in 2013, in which she silently performed Beyoncé's iconic 'Single Ladies' dance in traditional folk dress atop Bulgaria's snowy Rhodopi Mountains.
Beyond the pop paradigm, the diva figure can be traced back to early theatre and the tradition of opera. In Dominique Gonzalez-Foerster's OPERA (QM.15) (2016)—part of the expanded 'fragmented opera' she began in 2012, in which she appears as a range of fictional or historical figures—the artist appears via a looped holographic projection in the guise of the legendary soprano Maria Callas, "the most famous opera singer of the 20th century, best known for the virtuosity of her somehow unconventional voice, as well as for her dramatic musical interpretations."[6] Gonzalez-Foerster has compared her embodiment of the operatic diva to a trance or séance, blurring temporalities by constructing early recordings of Callas (arias from Luigi Cherubini's Medea, Giuseppe Verdi's La Traviata and Amilcare Ponchielli's La Gioconda), despite being clothed in the iconic red dress of her final performances.[7] The other two figures to appear in the QM.15 series were Sarah Bernhardt and Marilyn Monroe.
A particular aspect of the diva that Georgieva is intrigued by is the trope of female suffering; "like an alter-ego or superhero she finds strength in her weakness, through exploring her own suffering and her self-initiated salvation she can help catharsis of others." "The role of female 'empowerment' is complicated in terms of how women are coerced into neo liberal paradigms," she continued. "We are complicit, as female empowerment feeds capitalism, but traps us even more." By performing these complexities, and working within the system, as someone who experiences these problems intimately and subjectively, Georgieva's practice seeks to understand whether we can still find solace in the diva. "Where does actual power and strength lie, and how do we access it? How do we empower ourselves and how does the figure of the diva twist the sensibilities?"
"They can't stop, and art is their vehicle; their very lives must become works of art, no matter the cost, the supreme excitement is the artistic experience," said Gonzalez-Foerster of her QM.15 series.[8] Georgieva, too, can be seen as engaging with the 'supreme' experience of the female orator, and the diva as an avatar of empowered and independent womanhood, with the capacity for agency, divinity and mastery, mediated through voice and dramaturgy.
—
[1] Barbara Delatiner, 'Feminism in Art, With Respect' in The New York Times (11 June 2000)
[2] Jorinde Croese, 'The Fashion Duo Making Clothes in the Bulgarian Mountains' in Another Magazine (4 July 2017)
[3] 'I rist, you rist, she rists, he rists, we rist, you rist, they rist, tourist: Hans Ulrich Obrist in Conversation with Pipilotti Rist', in Pipilotti Rist (Phaidon, 2001) p.16
[4] Jane Harris, 'Psychedelic, Baby: An Interview with Pipilotti Rist' Art Journal, Vol 59, No 4 (Winter 2000) pp.68-79
[5] Tracy Warr, 'Works: Performing Identity' in The Artist's Body (Phaidon, 2006) p.153
[6] 'Maria Callas (1923-1977)' in Dominique Gonzalez-Foerster: QM.15, Esther Schipper, 4 November – 17 December 2016
[7] 'Dominique Gonzalez-Foerster, OPERA (QM.15), 2016' Freunde der Nationalegalerie, Berlin
[8] Dominique Gonzalez-Foerster: QM.15, Esther Schipper, 4 November – 17 December 2016
—
Philomena Epps is an independent writer and art critic based in London. Her writing has been published by Apollo Magazine, Art Agenda, ArtAsiaPacific, ArtForum, Art in America, Elephant, Frieze, MAP, The White Review, and more. She is also the founding editor and publisher of Orlando.