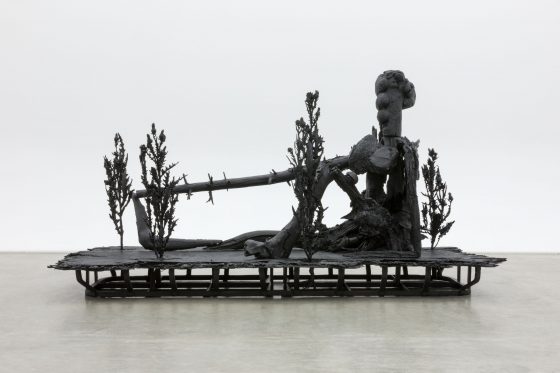 Matthew Day Jackson is an American artist whose interdisciplinary practice explores a myriad of aspects of human experience and draws from sources that reveal both our intrinsic inventiveness and its counter-point, our ongoing capacity for destruction. His work is currently on show in a solo exhibition at Hauser & Wirth London. Roman Road Journal had the opportunity to ask Matthew Day Jackson some questions about the art historical references in his work and his views on the intersections between art, nature and technology.
RRJ Editorial: The title of your Hauser & Wirth show – Still Life and the Reclining Nude – refers to two of the most important recurring tropes of Western art history. Why did you want to explore these genres?
Matthew Day Jackson: Our day-to-day interactions are informed by traditions signaling the values that affect life from the micro to the macro, from the deeply personal to the universal. "Still Life" and the "Reclining Nude" contain codes and symbols that sit comfortably in Western art, history and contemporary culture. I say "comfortable" in the sense that the power dynamics portrayed in these traditional forms are commonly understood. The flowers and the bodies are displayed; their position is that to be consumed, they are to be looked at, stripped of subjectivity. With these works I'm interested in thinking about the male gaze and the colonizing gaze and how these traditions and patterns of thought can be subverted, while also engaging in a critical discourse about my role in perpetuating these behaviors and my responsibility to undermine them.
Amidst crystallizing movements (ranging from Black Lives Matter, #MeToo, Everytown and the children mobilizing March for Our Lives, Brexit and MAGA) we get a clear view into the corpus of our cultures. These events and disparate views are peeling back the flesh of our society to reveal the structures and mechanisms that give it shape. This is an opportunity for many of us (in particular straight, cis, white men) to acknowledge and internalize the realities of privilege and to define a new space for ourselves, one that is attentive, engaged, compassionate, collaborative, reflective and critical. I think of patriarchy and white masculinity as being a gelatinous blob that oozes and subsumes its surroundings. The blob is now getting its boundaries more clearly defined which I feel is constructive working towards gaining the attributes previously mentioned. These ideas stem from a feminist philosophy and discourse. I might also add that the show has a funerary appearance as well.
RRJ: The flower works are described as 'paintings', but they are really composed of artificial and manufactured materials. Why did you choose to subvert the traditional medium of painting in this way?
MDJ: I have always thought that painting is primarily about illusion and allusion; therefore, the process and materials commonly associated with painting can be used but aren't required. For instance, the Formica or laminate that I use in the work will often take on the appearance of a different material altogether such as wood or stone, while hiding or denying its substrate material. This relationship is interesting to me and by using it in this way the purpose and properties of the material are accentuated.
RRJ: The sculptures in the exhibition draw on the art historical tradition of the reclining figure. Are there any artists or artworks in particular that inspired your critique?
MDJ: My initial inspiration came from a piece of wood that I saw in Wyoming, lying in the grass and which I thought looked like a woman's torso. Once I began viewing the wood in this way, I began to free associate and imagine other human forms. This experience verged on the erotic, which of course was a strange realization, and led me to think about how attraction to another human and finding beauty in nature were closely linked. After a while of thinking about this, and walking in the woods with my children, I realized that there was a relationship to the odalisque as a historical figure and the prevailing relationship to nature.
About five years ago, I read and was deeply inspired by Nell Irvin Painter's benchmark book The History of White People, in which she discusses the history of the odalisque in 18th and 19th century western art. As the conception of whiteness was forged in this time, so did its association with beauty standards and ideals that persist today. And so the reclining figure and odalisque portrayal in art served to propagate and solidify white supremacy even in their objectification and disenfranchisement. The natural environment is like a body, stolen and used for our pleasure without concern for its wellbeing or even regard for the effects of our actions. Nature and its bounty have been treated like a sex slave or odalisque.
RRJ: Your reclining figures, with their incorporation of natural found forms, recall landscapes as much as portraits. How do you see the connection between these genres?
MDJ: In the tradition of reclining nude paintings, the woman in the painting is displayed for consumption. The conventions of the painting closely relate to the conventions of the painted landscape in that they are displayed in a way that implies their availability. For a long time I have been making work about our inability to see outside of ourselves which leads to viewing the natural world as a reflective surface. I want the viewer to use their knowledge of art history (even a cursory one) and their natural tendency to anthropomorphize when looking at these sculptures. It is within this way of looking that the critical aspect of the work can be "understood."
RRJ: Your still life works similarly expose the loaded power of an apparently simple symbol of nature such as a flower. How do you see the intersection between nature, art and technology?
MDJ: Nearly everything that we know comes from the Earth's environment or within our atmosphere. From this material bounty we create art and technology from philosophy and science. Using process, material and form I create codes which depend on the viewers' relationships to labor, material, and history to create meaning as they relate to the society and culture that I inhabit and to which I contribute. In short, it's all related.
—
Matthew Day-Jackson: Still Life and Reclining Nude is at Hauser & Wirth London until 28 April 2018. Read more here.