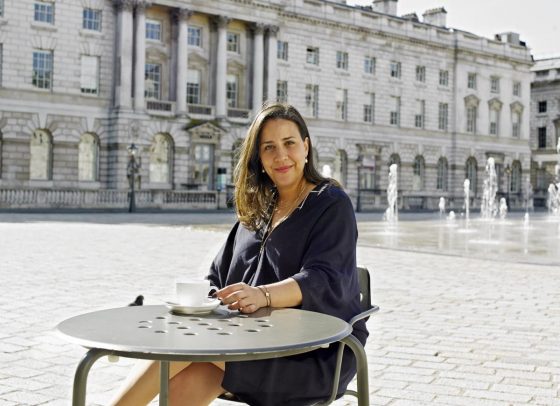 Touria El Glaoui is the founder of 1-54 Contemporary African Art Fair. Born in Morocco, El Glaoui has an MBA in Strategic Management and International Business from Pace University, New York, and started her career in the banking sector. In 2013 she founded 1-54, the first fair for contemporary African art in Europe, which is held each October at Somerset House. This year, for the first time, the fair will debut a new outpost in Marrakech (24-25 February 2018).
Read Roman Road Journal's recent interview with Touria El Glaoui below.
RRJ Editorial: You've got impressive background credentials in business development and finance – something that is relatively rare in the art world. Why did you make the decision to move into the sphere of art?
Touria El Glaoui: I come from a home where art is valued. My father is an artist and growing up creativity was always encouraged. When I moved into the arts sector full time I did so because I saw that there was work that needed to be done. Non-western artists from Africa and its diaspora particularly were not adequately represented on international art platforms, and as a result, they were not receiving the same level of opportunities for growth.
There were initiatives that were working hard to address these disparities, but I felt that I could positively contribute to the movement through a platform like 1-54. 1-54 was envisioned as a platform that could bridge the gap, increase international visibility for artists, foster further transcontinental and intercontinental dialogue, and generally widen the net of possibilities. We are constantly working towards that goal and revising our objectives as the sector evolves.
RRJ: 1-54 has now been running since 2013 and since then it has expanded from London to New York and, this year, to Marrakech. How has the fair evolved in that time?
TEG: We believe in steady and sustainable development practices. It has been 5 years of dedicated hard work, calculated risk-taking, unwavering passion and a great deal of collective effort. There have been challenges along the way, but such hurdles have encouraged us to be more innovative in thought and practice. We also have to acknowledge the invaluable support we have received from visitors and collaborators throughout this journey. Our global network continues to grow from strength to strength, and this is one of the main reasons why we have been able to expand.
RRJ: Why did you make the decision to take 1-54 to Marrakech this year? What do you find exciting about the art scene there at the moment?
TEG: What is not exciting about the historically and culturally rich city of Marrakech and Morocco as a whole? From the trading history, craft and traditional arts sector and artist hubs to its grandeur, architecture and vibrant social environment, we could not have selected a better home for 1-54.
Marrakech is also at the centre of new and exciting art initiatives. There are galleries, institutions and independent art centres emerging, creating the essential infrastructure needed. We are fortunate to be working with some of the institutions in Marrakech that are significantly contributing to the development of the market such as Fondation Montresso*, MACAAL (Museum of Contemporary African Art Al Maaden), Musée Yves Saint Laurent Marrakech, ESAV (ESAV (L'École Supérieure des Arts Visuels de Marrakech) and LE 18 amongst others.
RRJ: Do you feel you need to find a balance between art coming from the African continent and the diaspora?
TEG: We have a wonderful committee of art industry professionals who carefully select the galleries for every edition. They ensure that we have a fair representation of diverse voices. We also encourage galleries to submit strong curatorial proposals, ones that are forward-thinking and show an awareness of the complexities of this sector as a whole.
RRJ: There seems to have been a new-found interest in contemporary African art amongst institutions and collectors in the last few years, and the advent of 1-54 is clearly part of that. Why do you think contemporary African art seems to have caught the art world's imagination?
TEG: The art world is always in search of the 'new'. Contemporary art of Africa and its diaspora is not new, but for many years it did not have a wide-spread presence on internationally renowned art platforms. Through art, cultural and artistic producers of Africa and its diaspora have brought alternative perspectives and a multiplicity of voices to the fore. Whenever there is a sector that is developing, it presents an opportunity for new and innovative practices to take form. This is what contemporary art of Africa and its diaspora brings to the table: an opportunity to socially and economically transform the industry. The world has moved into an age of global connectivity and this is just one of the many ways this shared desire to connect is expressing itself.
1-54 Marrakech takes place 24-25 February 2018. Read more about it here.