São Paulo is at the centre of Brazil's growing art contemporary art scene. Its Biennale is the second oldest in the world, after Venice, and the foundation provides year-round art-related events and education. It is also the home to SP Arte fair (11-15 April 2018), which is hosted in the Biennale pavilion, and a plethora of young galleries. Despite once being known primarily for its brutalist architecture and its street art, São Paulo is making a name for itself as a growing player on the international art scene.
The city has a strong collection of art institutions and museums. Start with the Pinacoteca do Estado de São Paulo, the city's oldest museum, which features a strong collection of Brazilian art and tells the story of the nation's cultural history.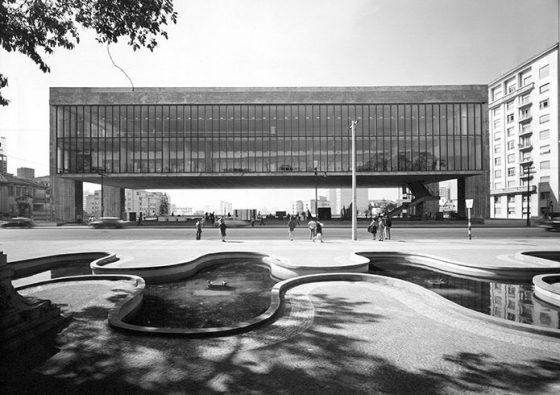 For contemporary art, head to MASP, or Museu de Arte de São Paulo, which is housed in a striking building designed by Brazilian-Italian architect Lina Bo Bardi and inaugurated in 1968. As well as staging well-received temporary exhibitions, the designers chose to display the museum's permanent collection on rows of glass easels rather than on the walls, offering an alternative to the traditional European museum set-up.
You should also consider visiting the Instituto Tomie Ohtake, named after the well-known Japanese naturalized Brazilian artist. The institute is home to exhibitions that shine a light on artistic developments over the past six decades, and has been credited with introducing some major European artists to Brazil, including Louise Bourgeois, Josef Albers, Yayoi Kusama, Salvador Dalí, and Joan Miró.
In terms of galleries, key players include Galeria Raquel Arnaud. Although the gallery opened relatively recently in 2011, Raquel Arnaud has been an important figure on Brazil's contemporary art scene since the 1960s, and was involved with the early development of MASP. Galeria Luisa Strina has been similarly instrumental in increasing São Paulo's visibility on the international art scene. Since it opened 44 years ago, Galeria Luisa Strina has both welcomed international artists and presented Brazilian artists abroad; in 1992 it became the first Latin American gallery to be invited to participate in Art Basel.
One of the most important art spaces in São Paulo (and on the Brazilian art scene in general) is Galeria Nara Roesler. Founded in the city in 1987, it has since doubled the size of the original gallery and opened new spaces in Rio and New York. The gallery has also implemented the Roesler Hotel program, an innovative platform for curatorial projects.
Luciana Brito Galeria has also had an important role in improving the visibility of the local art scene. Since it opened in 1997, the gallery's aim has been both to disseminate the Brazilian art worldwide and to promote locally the work of globally relevant artists. Luciano Brito acts as the Brazilian representatives for artists including Alex Katz, Liliana Porter and Marina Abramovic, and the gallery recently opened a project space in New York.
One of the most ambitious galleries on the scene is Fortes D'Aloia & Gabriel, which has an impressive roster of artists (both Brazilian and international), often presenting multi-part exhibitions across its three spaces: Galeria (Gallery) and Galpão (Warehouse) in São Paulo; and Carpintaria (Carpentry) in Rio de Janeiro. Meanwhile, one of the most important champions of Latin American art in São Paulo is Baró Galeria. Launched in 2010 by Spanish expatriate Maria Baró, the gallery focuses on site-specific works and curatorial projects with a strong emphasis on artists from the 70's and 80's, mixing older names with emerging talent.
As the biggest city in the southern hemisphere, São Paulo inevitably has a huge amount of creative talent to offer. But be prepared to travel for it; the city lacks a centralised gallery zone, with players spread far and wide.
Addresses and what's on:
SP Arte
Bienal Pavilion, Parque Ibirapuera, portão 3, Avenida Pedro Álvares Cabral, São Paulo, Brazil
Pinacoteca do Estado de São Paulo
Praça da Luz, 2 – Luz, São Paulo – SP, 01120-010, Brazil
Museu de Arte de São Paulo
Av. Paulista, 1578 – Bela Vista, São Paulo – SP, 01310-200, Brazil
Instituto Tomie Ohtake
Av. Brg. Faria Lima, 201 – Pinheiros, São Paulo – SP, 05426-100, Brazil
Galeria Raquel Arnaud
Carla Chaim – A Pequena Morte
9 Apr – 9 Jun 2018
R. Fidalga, 125 – Vila Madalena, São Paulo – SP, 05432-070, Brazil
Galeria Luisa Strina
Nicolás Paris – Between tomorrow and yesterday or the paths of a detour
7 Apr – 19 May 2018
R. Padre João Manuel, 755 – Cerqueira César, São Paulo – SP, 01411-001, Brazil
Galeria Nara Roesler
roesler hotel #28: screenspace
R. Redentor, 241 – Ipanema, Rio de Janeiro – RJ, 22421-030, Brazil
Luciana Brito Galeria
Liliana Porter – Time Line
14 Apr – 12 May 2018
Av. Nove de Julho, 5162 – Jardim Europa, São Paulo – SP, 01406-200, Brazil
Fortes D'Aloia & Gabriel
That Obscure Object of Desire
17 Mar – 28 Apr 2018
R. Fradique Coutinho, 1500 – Vila Madalena, São Paulo – SP, 05416-001, Brazil
Baró Galeria
R. da Consolação, 3417 – Cerqueira César, São Paulo – SP, 01416-003, Brazil